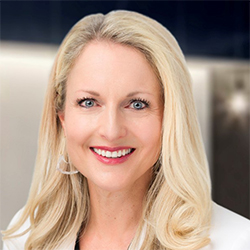 Emily Watkins
Chief Customer Officer
The Instant Group
Emily was most recently Head of the Global Enterprise business for Unispace, a global design-build organization, where she led a global sales and account management team focused on bringing new workplaces to life through strategy, design and construction solutions. She also started and led their employee resource group for women focused on advancing and connecting women globally. Prior to that, she was Executive Managing Director, Head of Flexible Space Americas at JLL, where she created and developed products focused on leveraging serviced office and coworking solutions to optimize portfolios and create dynamic workplace environments.  She was responsible for strategy through delivery and operations for these spaces for both investor and occupier clients.
Prior to that, she led real estate, design, development, facilities management, lease administration and procurement functions for Charlotte Russe, a retail organization with approximately 540 stores nationally, and their brand Peek Kids, an upscale specialty kids and baby brand with 11 stores.  She was responsible for establishing real estate market strategies, finding new locations, designing and building the stores and facilities, and managing and maintaining all corporate and retail assets. 
Prior to Charlotte Russe, Emily spent 3 years with JLL, where she led the Innovation & Product Development function for the Corporate Solutions business.  She was responsible for focusing on developing leading edge services and products.  Some key innovation initiatives that she launched were innovation and critical thinking workshops to generate leading edge ideas which she facilitated for internal and client teams, a technology tool to capture and vet ideas and best practices across the firm, and many new revenue generating product lines.  She also led JLL's national women's employee resource group, the Women's Network.
Prior to JLL, she spent 14 years with Gap Inc. in increasingly high-profile roles within the company's store design, construction, and real estate departments, lastly as Senior Director of Real Estate Management & Operations. In that role, she was responsible for guiding the global asset management for the company's brands with experience in all aspects of driving new initiatives (innovation, process, change management, training, technology, analytics) and managing the real estate lifecycle (portfolio management, strategy, site selection, planning & design, construction management, and asset management) for their 38-million-square-foot portfolio.  She was involved in facilitating organizational change efforts around process design, cultural initiatives, and onboarding.  She has also held positions at Gap Inc. in Construction Estimating, Gap Brand Global Store Design, and Architecture & Construction.