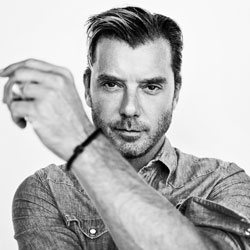 Gavin Rossdale
Lead Vocalist, Guitarist & Songwriter
BUSH
Previous Performer Page
Gavin Rossdale performed at WorkSpaces '19.
As the lead vocalist, guitarist and main songwriter behind multi-platinum rock band BUSH, Gavin Rossdale has sold close to 20 million records in the U.S. and Canada alone. Together with BUSH, he's compiled an amazing string of 18 consecutive Top 40 hit singles on the Modern Rock and Mainstream Rock charts, including 11 that hit the Top 5. Six of these became No. 1 hits: "Comedown," "Glycerine," "Machinehead," "Swallowed," "The Chemicals Between Us" and "The Sound of Winter." As a solo artist, he hit No. 1 on iTunes with "Love Remains The Same," which sold close to 2 million copies alone.
In between recording and touring, Rossdale has earned kudos for acting roles in both film and television, including 2013's The Bling Ring, the acclaimed black comedy from Oscar award-winning writer and director Sofia Coppola, 2005's The Game of Their Lives, in which he had a starring role alongside Gerard Butler, and 2005's Constantine, opposite Keanu Reeves and Rachel Weisz. His television appearances have included USA Network's "Burn Notice" and CBS dramas "Hawaii 5-0" and "Criminal Minds."
BUSH's most recent release, the critically acclaimed Man on the Run, was the follow-up to 2011's The Sea of Memories, the band's first release in 10 years. That album saw them return to the top of the charts in grand style, with lead single "The Sound of Winter" making rock radio history as the first self-released song ever to hit No. 1 at Alternative Rock Radio (where it stayed for six consecutive weeks).
Their story continues with a much-anticipated new album, which Rossdale and the band are currently working on.