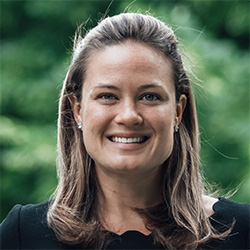 Lindsay Jacobs
CMO
International WELL Building Institute
As Chief Marketing Officer at the International WELL Building Institute (IWBI), Lindsay oversees the end-to-end commercialization strategy for the WELL Standard, the leading global standard for improving health and well-being in buildings, communities and organizations around the world. Since joining the WELL team in 2016, WELL has scaled to encompass more than 4 billion square feet of real estate in 126 countries including 20% of the Fortune 500. In her role, she collaborates with many of these global brands to create people-first campaigns that showcase the impact of their WELL achievements on the health, happiness and productivity of their people. 
Before joining IWBI, Lindsay served as the Director of Marketing for Parsley Health. As a founding member of the startup team Lindsay was a key architect of Parsley's mission to redefine primary care and deliver a new approach to medicine that combines smart technology with holistic and functional practice. Prior to Parsley Health, Lindsay worked as Marketing Lead at the New York Stock Exchange where she was responsible for developing and executing integrated marketing campaigns for pre-IPO companies like Twitter, Alibaba, Shake Shack and more. 
Lindsay graduated from Villanova University School of Business with a degree in Marketing and Communications and is currently pursuing her Executive MBA at NYU's Stern School of Business. She is also on the board of the Right to Dream organization, a charity focused on providing academic and athletic scholarships to students from emerging market countries. She is an avid skier, reader and hiker and resides in the greater New York area with her husband and dog, Luna.