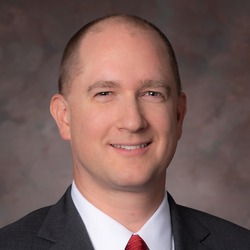 Patrick Hoffman
SVP, Corporate Real Estate & Services
Syneos Health
Patrick is a seasoned executive leader with over 20 years of experience and a global perspective. He has a proven track record of success in real estate strategy, talent development, and maximizing value, particularly in challenging situations.
Patrick began his career in brokerage at CBRE before moving to McDonald's Corporation, where he honed his leadership skills and served as Senior Director, Strategy Alignment in the Worldwide Development function.
As Director of Real Estate Strategy and Operations at Red Hat and Vice President of Real Estate at Advance Auto Parts, Patrick led dynamic teams that optimized real estate portfolios and drove successful real estate strategies.
In his current role he leads corporate real estate, environmental sustainability, records information governance and safety, security & business continuity at Syneos Health. Syneos Health is a leading fully integrated biopharmaceutical solutions organization built to accelerate customer success.
Patrick holds a bachelor's degree in geography and urban planning from Indiana University of Pennsylvania and a master's degree in law with a concentration in real estate law from the University of Pittsburgh. He has achieved the designation of Master of Corporate Real Estate (MCR), demonstrating his commitment to excellence in his field.