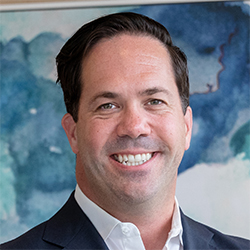 Peter Van Emburgh
SVP, Global Head of Real Estate
CBRE
As Global Head of Real Estate for CBRE, Peter leads CBRE's corporate real estate organization and is responsible for managing the firm's rapidly-growing 500+ office portfolio spanning over 7M sq. ft. Peter oversees a global team delivering real estate strategy, transactions, lease administration, construction, ground-up development, design, occupancy planning, and facility operations. Under Peter's leadership, his team led the relocation of CBRE's headquarters to Dallas and the development of a 131,000 sq. ft. shared services center in Richardson in 2020.
Peter also leads the firm's award-winning Workplace360 program, which has transformed over 100 CBRE offices into technology-enabled, agile workplace environments. Workplace360 has delivered over $95mm in cost savings and has positively impacted employee engagement through its world-class workplaces.
During his tenure at CBRE, Peter has held various senior positions. As Senior Managing Director, he was a global transactions and strategy account leader for a Fortune 500 technology company across its 35M sq. ft. portfolio. From 2015-2017, he served as regional client strategist for 30 corporate accounts in the South and Latin America divisions. From 2014-2015, he was Managing Director and national practice lead for CBRE's Management Consulting group, responsible for delivering advisory solutions to a diverse array of public and private clients.
Prior to joining CBRE, Peter served in various management consulting roles with PwC and Deloitte, delivering portfolio and CRE organizational strategies for clients.
A recipient of numerous industry awards and honors, Peter is a frequent speaker and recognized thought leader on corporate real estate trends and topics.