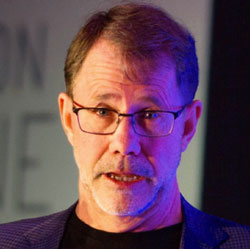 Rex Miller
Principal
Mindshift
Rex Miller is an internationally award winning author, respected futurist, an elite coach and compelling keynote speaker. His MindShift process brings a unique crowdsourced approach to tackling complex leadership challenges. In partnership with Haworth this process has won both the CoreNet Global Innovators Award and Industry Excellence Award.
Rex recently completed a two-year project with more than 100 experts, owners and leaders to find out why 95% of wellness efforts fail and how healthy buildings, change architecture and healthy cultures provides a clear strategy to health and wellbeing. The Healthy Workplace Nudge will be released in May of this year.
He began his research organization 11 years ago and in collaboration with over 25 organizations produced, The Commercial Real Estate Revolution. His team of experts and leaders discovered and demonstrate how to overcome systems and traditions running capital projects and build trust-based project teams that consistently cut waste and deliver successful projects.
Their second collaboration effort brought together over 70 organizations and experts. It flips chronic workplace disengagement by demonstrating the link between environments and culture. Armed with this insight organizations can shift or improve their cultures using design and the workplace as a catalyst. This two year project is explained in the book, Change Your Space, Change Your Culture.
The third MindShift project explores how to transform an obsolete education system. Humanizing the Education Machine connects the dots on why the U.S. education system is perfectly designed to create disengaged teachers and students and how to turn our schools around.
His most recent project enlisted the support of over 100 organizations and experts to explore the drivers behind our current health cost crisis, the threat it poses to organizations and our nation and why 60 years of preventative efforts have failed. They Healthy Workplace Nudge proposes a bold new way to think and approach the problem putting wellbeing in front of wellness, applying nudge design and understanding the negative and positive health effects of the built environment. The book shares how a handful of companies have been able to go beyond these interventions to create a healthy culture.
Rex's clients include Google, Disney, Microsoft, GoDaddy, Intel, the FAA, Delos, Haworth, Turner Construction, Balfour Beatty Construction, DPR Construction, Gensler Architects, IA Architects, MD Anderson Hospital, Universal Health Systems, Oregon Health Science University, the University of Illinois, Texas A&M, the University of Denver and many others.